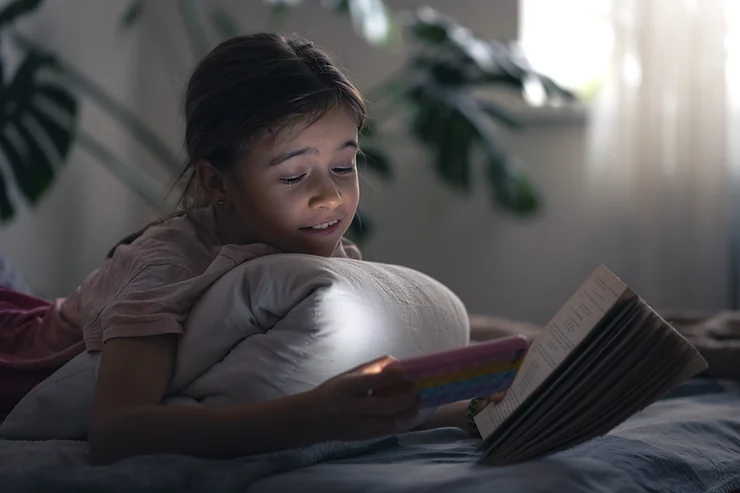 With the increasing access to the Internet and the increasing need for it, the use of the Internet has increased during the past few decades, and the Corona pandemic has led to taking many preventive measures (such as closing schools, closing shops and restaurants), which led to an increase in the use of the Internet in daily life, so Internet addiction has become an issue Public health is of increasing importance all over the world.
Internet addiction can pose serious social and health problems, including negative effects on the physical and psychological health and social development of children. According to the World Health Organization, Internet addiction is characterized by excessive use or poor control of fears or behaviors related to the use of the Internet, which leads to weakness or distress and the emergence of psychological withdrawal symptoms if it is not used, or in other words, the child's life revolves around using the Internet without interest in the rest of his life.
Recent empirical evidence indicates an association between excessive Internet use and physical health problems such as:
Obesity.
eyesight problems
Nervous system problems.
Sleep disorders.
Hearing disabilities.
Factors causing internet addiction
Addiction is defined as the habitual compulsion to engage in a certain activity or use a bad substance despite its devastating consequences for the physical, social, spiritual, mental and financial well-being of an individual. Instead of dealing with life's obstacles, processing daily stresses, or coping with past or current traumas, the addict responds disproportionately by resorting to a false coping mechanism for the problem at hand. Addiction usually manifests itself in both psychological and physical characteristics. Dependence occurs in the body when an individual's body becomes dependent on a certain substance, and withdrawal symptoms appear when they stop consuming it, such as drugs or alcohol.
Although the addictive substance is initially pleasurable to the user, its continued consumption increases the urgency of the need to eliminate the anxiety caused by its absence, which leads the individual to compulsive behavior. As for psychological dependence, it becomes clear when the addict is exposed to withdrawal symptoms, and he has:
Depression.
Cravings.
Insomnia.
Excitability.
Behavioral addiction and substance addiction usually lead to psychological dependence. Below is a summary of the different models proposed to explain Internet addiction associated with psychological dependence. Considering Internet addiction as a behavioral addiction, focusing on the psychological issues that increase Internet consumption is useful to aid in the clinical understanding of why people overuse Internet.
The behavioral cognitive model
Kaplan (2002) looked at technological addictions as a subset of behavioral addictions, and Internet addiction shows its main components, which are:
Desire to appear.
Mood adjustment.
endurance.
pulling out.
conflict.
relapse.
From this perspective, Internet addicts have shown a salience for activity, as they often experience cravings and a constant feeling of being online when they are not connected to it. Kaplan also hypothesized that using the Internet as a way to escape anxious feelings, developing tolerance to the Internet for satisfaction, experiencing withdrawal when using the Internet less, experiencing increased conflicts with others due to activity, and relapsing back to the Internet are also signs. addiction. This model has been applied to behaviors such as sex, exercise and food consumption in a study of pathological or addictive Internet use.
In order to confront this phenomenon that is widespread in our Arab societies in recent times, preventive programs must be prepared and the concerned institutions should play their role in protecting future generations. Given the limited resources of schools, school-based programs with parental education and ongoing support from volunteers are critical to achieving long-term effects. Most teens use the internet at home, therefore, parental supervision based on caring and reciprocal relationships is very important. The aim of training
Parents in teaching them means of communication, resolving conflicts, providing support and dealing effectively with their adolescent children. Parents need these skills to negotiate online hours, monitor teens' activities without compromising their privacy, and encourage extracurricular activities outside of the Internet. Volunteers can also play a critical role in teaching young people to use the Internet in constructive ways. Undergraduate student volunteers can be excellent agents of change for many reasons;
First, they are developmentally close to teenagers.
Second, they may have many personal experiences with Internet use.
Third, they can set an example in many areas other than using the Internet. Therefore, parents and university student volunteers are important resources for Internet addiction prevention.
For psychological support and book a psychological consultation
This article was translated by
Rejuvenating and stimulating complex
Psychologist
Dr.. Ayman El Gohary
References used: with disposition and paraphrasing
Kimberly S, Young, Xia Dongyu, Li Ping (2019) Prevalence Estimates and Models
The causation of internet addiction. In: Kimberly C. Young (Editor), Internet Addiction: A Guide to Assessment
and treatment. Translated by: Moataz Sayed Abdullah and Al-Hussein Abdel Moneim, Cairo University publications.
-Yee Lo, B.C., Man Lai, R.N., Ting Kin NG, T.K. & Wang, H.
(2020). Worry and Permissive Parenting in Association with the
Development of Internet Addiction in Children. Int. J. Environment. Res.
Public Health, 17(21), 7722;